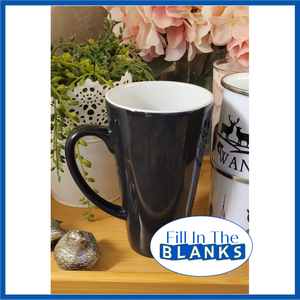 Now that is a mouthful!
A really great, eye-catching mug!
The black coating disappears when hot liquid is poured into the mug.
The image disappears and black returns as the mug cools.
White is underneath the black to show your sublimated image.
*Special Notes for this mug: hand wash only, and allow to cool slightly before removing paper (otherwise the black coating may chip off slightly onto your paper).   The dark part of the image may show through the black coating under certain lighting - but overall the image is hidden and these make a great product to add to your store and delight your clients with. 
After heating and colour changing - it takes longer than you would think for them to change back to completely black. 
Our system will only allow you to order what we have in on-hand stock.  If out of stock and you need more, you can Reserve Stock Please specify which product you are reserving and the quantity.  No obligation, no pre-payment! Have us notify you when your requested amount is in and hold them for 24 hours - only available on a first-come, - first-served basis.