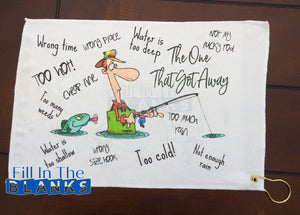 Handy item with so many uses!

12"X18"
With gromet and carabiner style hook closure
White
Lightweight
Great idea for golf, fishing, barbecue, camping or anywhere a quick towel comes in handy. 
Our system will only allow you to order what we have in on-hand stock.  If out of stock and you need more, you can Reserve Stock (no obligation have us notify you when your requested amount is in and hold them for 24 hours - only available on first come - first served basis).