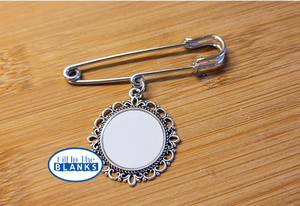 Beautiful keepsake!
2 1/8" kilt pin style
1 1/8" charm with a 1" sublimation insert
Perfect accessory or accent for memorials, weddings, & celebrations. Looks great in a bouquet or with a boutineer. 
See also our In Loving Memory keepsake, Memorial Urn Necklace, Memorial Charm with Verse, and our Angel Wing Pendant.

Our system will only allow you to order what we have in on-hand stock.  If out of stock and you need more, you can Reserve Stock (no obligation to have us notify you when your requested amount is in and hold them for 24 hours - only available on first come - first served basis.)