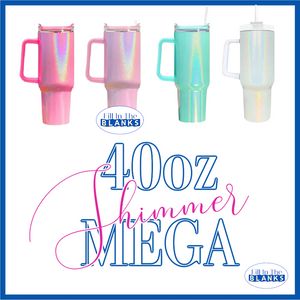 Highly requested item!
40 oz mega shimmer tumblers
Available in 4 colour choices
Sublimation-ready
Known as stanley, adventure quencher or mega
Handle screws on and off so you can sublimate around fully
Stainless steel, double-wall, vacuum-sealed
Comes with a screw-on lid, rigid straw and box
Hand Wash due to the vacuum seal 
Approx 10" high with a 12 1/2" circumference at the largest part.  Ours just fit into a Black and Decker regular convection toaster oven. 

Also see:
Regular 40oz Tumblers
40oz Tumbler Snack Trays
40oz Tumbler Lid Decoration / Tumbler Tag
See also our Glow, & Wine Tumblers, and our Sippy and Bullet Tumblers too.