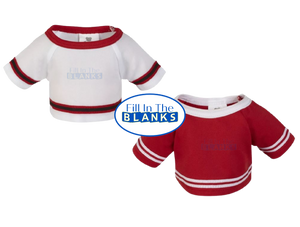 Wonderful quality shirts to be personalized to fit your stuffies, teddy bears, plush toys or dolls.
2 colours to choose from
Sublimation shows great on the white areas

6″ x 4″ x 3″ (width x height x neck)

Excellent for DTF and HTV too
See also our Stuffy/Doll Shirts Solid Colour, Jackets, Hoodies, Bandanas and 2 Colours Shirt.
If you are looking for a stuffy that fits perfectly, please see our Critters! 
Our system will only allow you to order what we have in on-hand stock. To reserve more, please Reserve Stock.