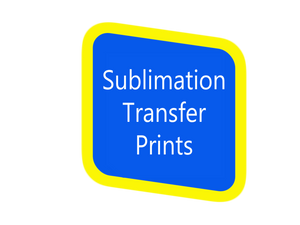 You are purchasing a printed copy of an image in a high-quality format to be used for sublimation purposes.  Lettermail (no tracking, no insurance) is included in the listed price. (Max lettermail size is 10" X 14")

This listing is for a print of a design we provide, or if you are supplying your own design, need graphic work done or your image altered, please contact us.  
Choose your size option and we will be in touch with you shortly to confirm.  Typically, your prints are mailed to you within 24-48 hours.
The size shown is the longest edge of the design.
Any other changes you wish made to the graphic can be discussed and are considered on an individual basis as the additional fees for this are also determined individually if needed.  
You may not distribute, or re-sell these prints.
Please ensure that you can work with this image prior to purchasing, as there are no refunds on printed images.

We encourage those new to sublimation to learn prior to use and to follow manufacturing guidelines for sublimating on their particular products.  This product has no guarantees or warranties as there are too many variables when sublimating.

Recommended sizes (please use your own measurements for certainty)
3.25" 2 per page
4.25" Infant
6.5" Toddler
7" Small Towel
8" Youth
10.5" Adult
12.5" XL Adult
(Custom sizing available, please inquire.)