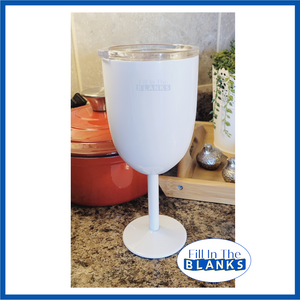 We love these!

Size: 12oz wine tumbler with stem
Stainless steel, double-wall, vacuum-sealed
Comes with a slider lid and box.
The bottom is weighted and non-skid.
Hand Wash due to the vacuum seal
Approx 8" H and 11" Circumference (not including handle)
We cannot guarantee the shape/state of the boxes that these tumblers are packaged in. 
You cannot sublimate these in a convection oven due to the rubber non-skid pad on the bottom. 
Add on Stainless Steel Straws here, or see our Sippy Tumblers, Bullet Tumblers and Glow too.
Our system will only allow you to order what we have in on-hand stock. To reserve more, please Reserve Stock.